Arriving in Florence, meet Carlo Scarpa at the station and find out what connects him to Giuseppe Briati
If you are coming to Florence with the train, probably from Rome, Venice or Milan and ready to see the reinaissance masterpieces, don't miss one of the milestone of lighting right as you step out from the train.
The station itself is an architectural monument of the Italian 30's rationalism. There is a side story that very few knows. The fixtures were appointed to Venini, where young architect Carlo Scarpa was working.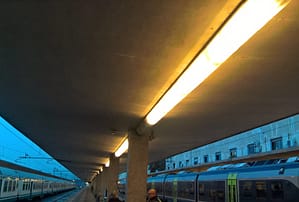 He used fluorescent lamps (neon light in Italy) which were already in use but known, as today is known, for the horrible light output.  A few years ago I had some spare time due to a late train and started reading the stands with the description of the building of the station that are close to the ticket counter. In-between the lines there is a note about the technique used by Carlo Scarpa. Using different layers of rose and light blue glass.  Nowadays with led CRI 90 lights no one remembers the problem of fluorescent tubes. In offices you would see the pairing of two tubes, one with high Kelvin (blue) and one with low Kelving (rose). The mix of the two would generate an acceptable white on the desk surface.  This illuminating technique is also known in theathre where there is always a pair of spotlights with the same concept.
So Carlo Scarpa in the 30s was already working on kelvins and white balance and came out with the idea of using glass of two kinds so that the light output would be improved.
I always asked myself why the rezzonico chandeliers were made in all clear with accents of ruby color and bluino. Now I have an answer. At the time they had to face the same problem, but in a way from the opposite end, candle lights were too warm, and to get an improvement of ambiance light, here we have again the same solution, tints of rose and blue.!. Considering all the possible colors available I always asked myself why they have picked a combination of cold and warm color and not ambers, greens and so forth.
This concept was perpetuated from Paolo Venini after Carlo left with the Poliedri, you often see the same combination of a cold and a warm color. Amtetyst and aquamarine, Ruby and bluino.
If you have time. Or if you are obliged to stay as usually happens in Florence station, then go to the Palazzina Reale to see another great installation of Carlo Scarpa. This was the private dock for the king of Italy, now the best place to relax and have a spritz admiring the architecture, the linear and wide geometric solutions of Italian Rationalism and the monumental chandeliers of Carlo Scarpa.
Now you are ready for Michelangelo, Botticelli and Da Vinci.
https://ml1phjo9hp90.i.optimole.com/O8Wa5fE-zIlhQbv3/w:auto/h:auto/q:mauto/https://midmodernist.com/wp-content/uploads/2021/04/WP_20180111_08_01_05_Pro_cr-rotated.jpg
2244
1218
silviopp
https://midmodernist.com/wp-content/uploads/2019/10/logo-mid-midernist-5.png
silviopp
2021-04-02 13:40:33
2021-10-03 18:37:47
Arriving in Florence, meet Carlo Scarpa at the station and find out what connects him to Giuseppe Briati